Twin Booster Systems (Tb Series)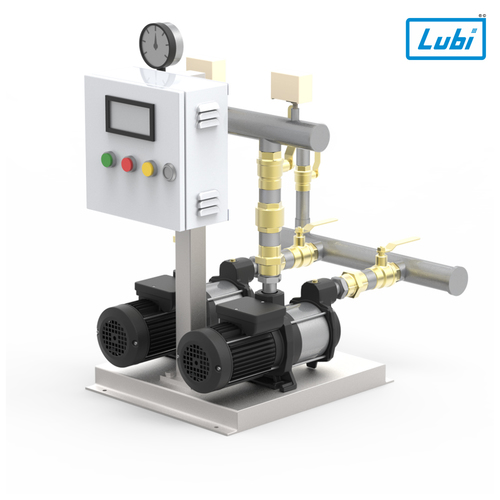 Twin Booster Systems (Tb Series)
Product Description
Twin Booster Systems (Tb Series)
Variety & Range :
Flow range: up to 28 m/h
Head range: up to 82 metres
Features :
The pump casing shall be of Cast Iron grade FG 260 as per IS 210 / ISO 186 and have axial suction and radial discharge port.
The pump shall have fabricated closed type impellers and bowl diffuser casings made out of AISI 304 Stainless steel sheet metal.
The Pump shaft sealing shall be by mechanical shaft seal of Carbon/Ceramic/NBR/AISI 304 construction suitable for 10 bar pressure rating and water temperature from 0 to +90 deg. C.
The pump shall be close coupled with a totally enclosed fan cooled type, 2900 rpm Induction motor with F class insulation, S1 duty and IP55 protection. 1 phase, 230 volts, 50 Hz (Standard Supply), 3 phase, 415 volts, 50 Hz.
The System shall be factory assembled and tested and is supplied with Hydro-Pneumatic pressure tank.
All cast iron parts shall be CED (cathode electrode deposition) coated for corrosion resistance with uniform coating and controlled deposition thickness of 20-30 microns.
Applications :
Large houses
Domestic buildings
Cottages and villas
Hotels & Hospitals
Schools
Industrial Plants
Liquid Transfer and Sprinkler Irrigation.